The DomesForLife Geo-Grower line of geodesic dome products range from your backyard greenhouse dome for growing vegetables to a botanical garden that you can walk through and hang out in a beautiful green oasis and never leave the comfort of your own yard! The Geo-Growers are fully customizable with a whole host of features and amenities such as; optional skylights to mounting for lighting systems, hanging plants and even stained-glass panels and other artistic decorative options to name a few. See below for a full list of features and options.
What are Geo-Growers?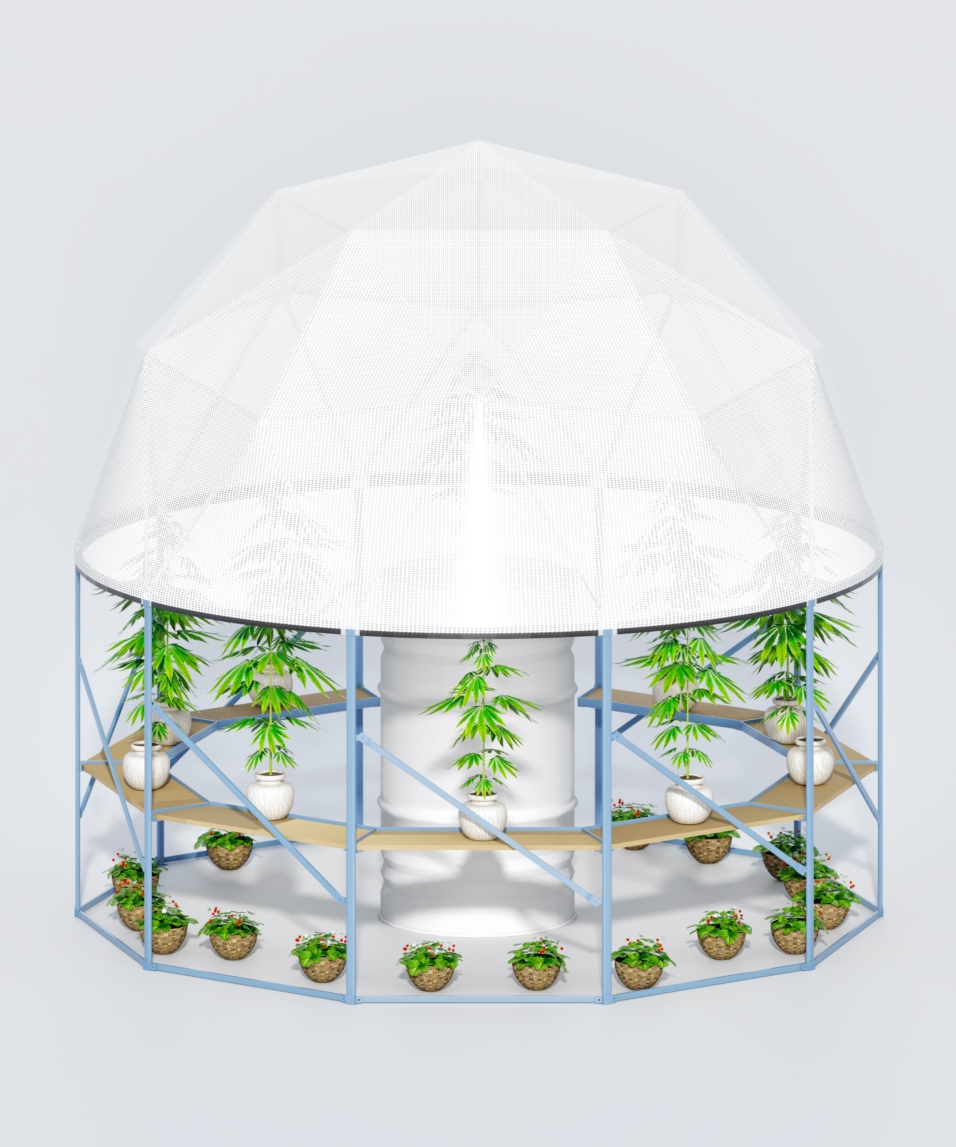 There is something undoubtedly rewarding about sewing a seed in some soil and watching it successfully mature and reach its full potential. Sometimes, however, environments and circumstances do not allow adequate conditions for uncompromised growth.
DomesForLife has created an efficient solution for those struggling with lack of space, animal interference, brutal temperatures, exceeding rainfall, and nosey neighbors. Our Geo-Grower is the perfect solution for those with less than ideal growing situations.
The interesting thing about the Geo-Grower structure itself is that it can be a chameleon structure for a multitude of household tasks and a convenient solution for some of the most common household functions.
Airflow through the Geo-Grower is designed to replicate the cool flowing breeze that is associated with being outdoors without the detrimental effects of being exposed to the elements. This means that the Geo-Grower can double easily as a child play-place, and tool storage area, or a dog sun shelter! The possibilities are endless!
For those looking for the ultimate in crop protection or discrete growing we offer our Geo-Growing solution. Made from the same sturdy materials as both the Glamper and Lounger, the grower offers superior craftsmanship tailored to the discerning botanist.
Unlike the traditional geodesic model, our Geo-Grower dome is supported by a 360-degree lift style wall enclosure that will allow for shelving and support the vertical growth of various types of plants. The Growers are also great for commercial growing operations such as farms and cannabis and can be outfitted with a host of innovative features to create optimal growing conditions!
For those looking for the ultimate in crop protection or discrete growing, our Geo-Grower may be your ultimate solution. Made from the same sturdy materials as both the Geo-Glamper and Geo-Lounger, the Grower offers superior craftsmanship tailored to the discerning botanist.
Standard Geo-Grower Options
The Basic Geo-Growers come standard with:
- 16' Diameter

Geodesic Steel Frame

- Vinyl Cover

- Translucent

Window Panels

- Door
That is the starting point for a whole range of customization.
Geo-Grower Specifications
Height - 11'
Diameter - 16'
Geo-Grower Upgrade Options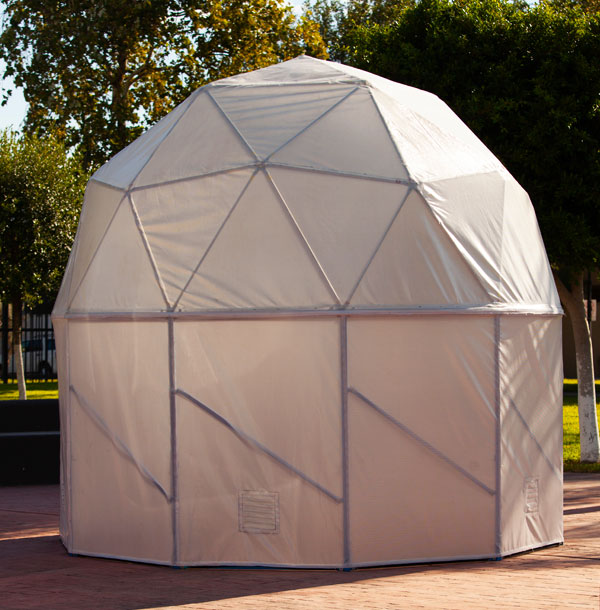 From the standard Geo-Grower you can expand on the design in a number of innovative ways to achieve the ideal environment for your needs and taste.
Additional options include:
Dome Size – The standard 16' diameter size is only the starting point! DomesForLife Geo-Growers are available in sizes all the way up to 120' diameter or over 11,000 square feet! Your only limits are the size of your space and your imagination!!
Doors & Tunnels – Our domes can be fitted with several doorways and door options from commercial double doors to ornate decorative door designs. In addition, you can even connect multiple Geo-Grower domes together via geodesic tunnels so that you can have separate spaces that are connected so that you can travel between them without going outside!
The larger and more ornate Geo-Growers can feature ornate décor and artistic elements such as stained-glass panels, custom printed covers, colored frames and more.
The Growers can feature hanging points from the geodesic steel frame so that you can easily hang and mount certain plants and other features to truly create a 360-degree botanical environment. These hanging points can also be used for hanging lights that are used for growing.
The domes can be equipped with rainwater collection systems so that you can have a constant supply of fresh water for your plants.
Geo-Growers can also feature full climate control systems and even can have HEPA filtration systems to ensure the cleanest possible air in the space.
Geo-Grower Uses & Applications
The Geo-Grower can be used for all kinds of growing applications from personal to commercial. Here are a few:
- Backyard Greenhouse
- Commercial Grow Operations
- Botanical Gardens
- Restaurant Fresh Produce Gardens
- Ranches and Farms
FAQ - Frequently Asked Questions
Welcome to Demo Store's FAQ! Here you'll find answers to our most asked questions. Still can't find quite what you're looking for, or have something we should know? Send us an email, we're happy to help!
Q1: Do you ship to my country?

A1: Most likely, you can see what countries we ship to in the drop-down at the checkout.

Q2: How much do I pay for shipping?

A2: The shipping charge will be added to your order and visible on your receipt before you check out. The shipping is based on the destination country. You'll get free shipping on orders above a certain amount.

Free shipping on orders above:

Denmark – 600 DKK
Norway – 1000 NOK
Finland – 100 EUR
Germany – 100 EUR
UK – 70 GBP
Rest of the EU – 100-250 EUR
Global – 200 USD

Q3: What are the accepted payment methods?

A3: We accept online card payment with MasterCard, VISA or via PayPal. Residents within Sweden are also offered the option to pay by invoice through our partner Klarna. Please see Klarna's home page for more information.

Q4: What currency do I pay in?

A4: The currencies used are EUR, USD, GBP, DKK, NOK and SEK. The currency is chosen automatically depending on your shipping country. Swedish VAT is included in all our prices within the EU.

Q5: When do I receive my order?

A5: We dispatch all orders in 1-2 business days with FedEx, delivery time will depend on the shipping country and address.

Q6: Do I have to pay international taxes and duties?

A6: Your order may be subject to import duties and taxes, which are levied once a shipment reaches your country. We cannot control and is not responsible for any duties/taxes applied to your package upon delivery. You will be responsible for paying additional charges for customs clearance. Customs policies vary widely from country to country; please contact your local customs office for further information.
Domes For Life 2 Year Limited Warranty
DomesForLife and the people who make up our family of employees throughly stand behind and believe in our products. We work, play, and live in our creations. You can be assured that your DomesForLife purchase will be something you can enjoy for years to come with our comprehensive 2 year guarantee which covers all material and product defects.