DomesForLife's Geo-Lounger is a geodesic dome shaped furniture piece that you can sit in like a papasan chair and hang out with friends and family in style!  
About the Geo-Lounger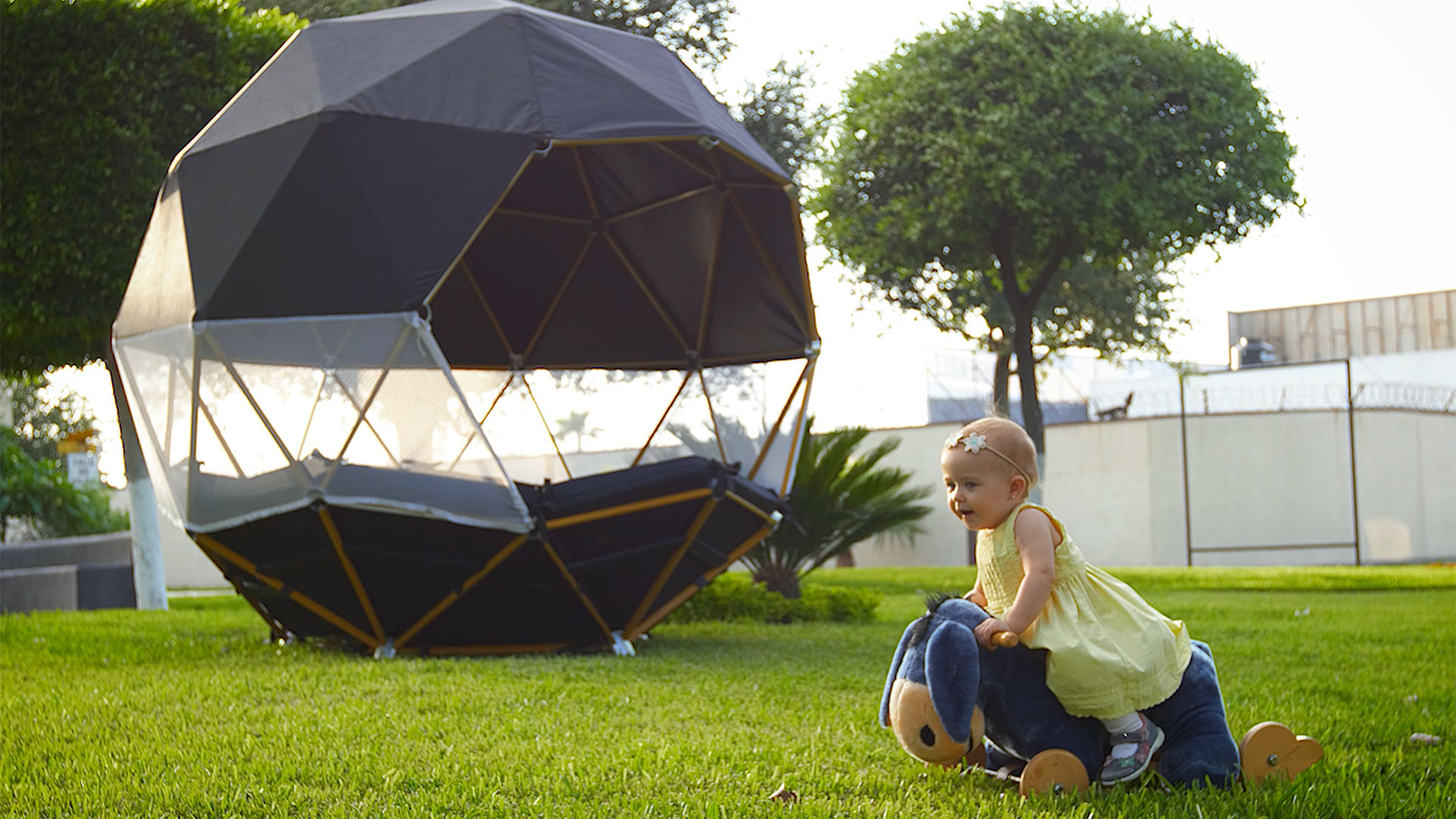 The Geo-Lounger is the perfect combination of complex artistry and simple, installation-friendly assembly. With a capacity of up to six adults, you will be able to share your lounging experience with some of your closest friends and family while utilizing some of its several convenient available amenities.
Quality Guarantee vs the Competition
DomesForLife's guarantees the highest quality manufacturing of geodesic products available on the market today. We live, grow, and play in our own creations and back our products with a no questions asked 2-year guarantee of products defects. Our Geo-Lounger is no exception. Our product is made from a sturdy steel and high traffic, weather-tough durable fabric.
Unlike the competition such as the Home Depot special, our products are Made in the USA and we ensure that each product meets the highest manufacturing standards with a 12-point inspection prior to shipping each unit. Domes For Life prides itself on customer satisfaction and service is our #1 goal.
Measurements
Height - 7' 6"
Width - 8'
Shipping Weight - 51x47x31 in.
Shipping Dimensions - 220 lbs.
Materials
Frame Material - Steel Struts
Cover Material - PVC Vinyl
Cushions - Marine Weatherproof Fabric
Ratings
Wind Rating - 55 mph (straight line)
Snow Load - 400 lbs.
Geo-Lounger Applications and Use Cases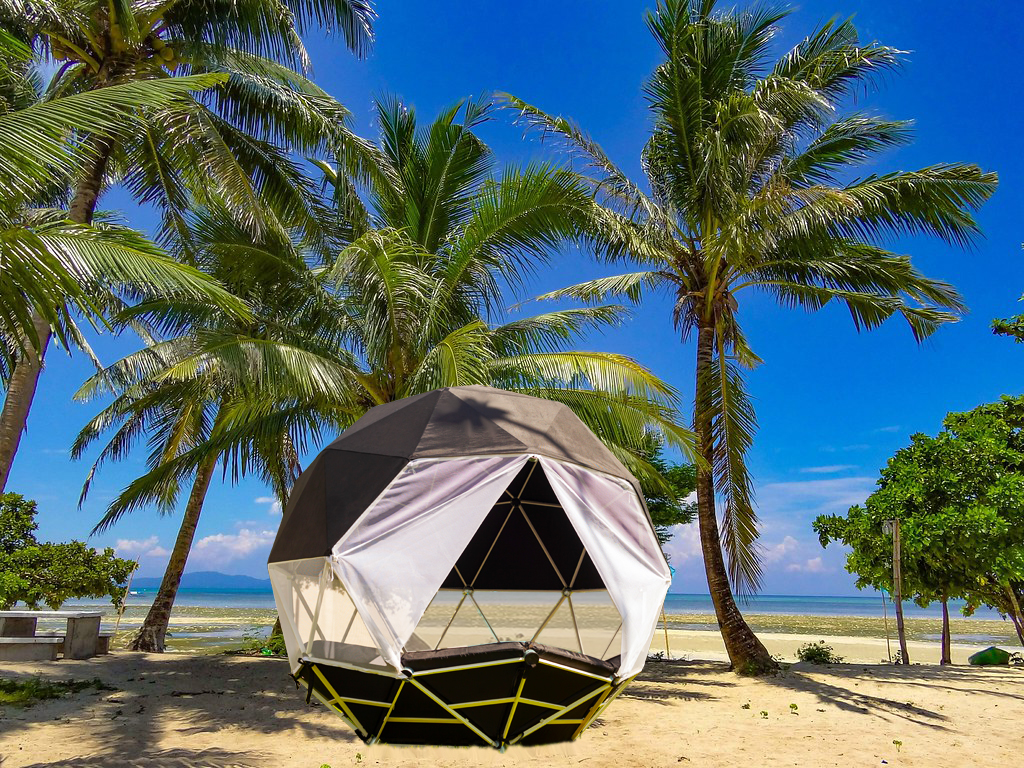 There are hundreds of uses for DomesForLife Geo-Lounger. For more information about the Geo-Lounger uses and all our other products please visit our Use Cases pages.
Here are just a few of our favorites for the Geo-Lounger:
Beach

Home

P

atio

Lawn /

Garden

Restaurants

Hotels

VIP event lounges

Poolside
The Geo-Lounger can even be mounted to a deck in a treehouse or other structure instead of ground mounted so that they become your "geo-pod" in the sky!!!
They make great additions to relax in the outdoors for commercial venues such as concert venues, wineries, yoga retreats, poolside cabanas or any number of applications. They are also great for social distancing for your own private chill space!
FAQ - Frequently Asked Questions
We welcome any questions you may have about the various DomesForLife Products available. Here are a few we get most often about the Geo-Lounger that you may find helpful.
Q1: Do you ship to my country?

A1: Most likely, you can see what countries we ship to in the drop-down at the checkout.

Q2: How much do I pay for shipping?

A2: The shipping charge will be added to your order and visible on your receipt before you check out. The shipping is based on the destination country. You'll get free shipping on orders above a certain amount.

Free shipping on orders above:

Denmark – 600 DKK
Norway – 1000 NOK
Finland – 100 EUR
Germany – 100 EUR
UK – 70 GBP
Rest of the EU – 100-250 EUR
Global – 200 USD

Q3: What are the accepted payment methods?

A3: We accept online card payment with MasterCard, VISA or via PayPal. Residents within Sweden are also offered the option to pay by invoice through our partner Klarna. Please see Klarna's home page for more information.

Q4: What currency do I pay in?

A4: The currencies used are EUR, USD, GBP, DKK, NOK and SEK. The currency is chosen automatically depending on your shipping country. Swedish VAT is included in all our prices within the EU.

Q5: When do I receive my order?

A5: We dispatch all orders in 1-2 business days with FedEx, delivery time will depend on the shipping country and address.

Q6: Do I have to pay international taxes and duties?

A6: Your order may be subject to import duties and taxes, which are levied once a shipment reaches your country. We cannot control and is not responsible for any duties/taxes applied to your package upon delivery. You will be responsible for paying additional charges for customs clearance. Customs policies vary widely from country to country; please contact your local customs office for further information.
Domes For Life 2 Year Limited Warranty
DomesForLife and the people who make up our family of employees throughly stand behind and believe in our products. We work, play, and live in our creations. You can be assured that your DomesForLife purchase will be something you can enjoy for years to come with our comprehensive 2 year guarantee which covers all material and product defects.